Psychological
Since Instagram is a Social network after all, most of the causes for unfollowing your account are psychological, such as:
They do not like your content or no longer find it valuable or worth their time.
You annoyed them by posting too often, or not posting for too long, going silent, offending them with one of your posts etc.
You do not reply to their direct messages or comments, etc.
Technical
Other causes are purely technical:
They follow / unfollow accounts, including yours, trying to game the platform
They are no longer on Instagram and removed their account.
What can be done to reduce churn and grow your account faster?
Be grateful
By posting anything to Instagram, you grab your audience attention for a fraction of their time. Be grateful for that time. Remind your followers how much you treasure them and try not to waste their time or disappoint with irrelevant posts.
Know your Niche
People follow you for a reason. They might seek entertainment, ideas or insights. Make sure you know your account value and niche. If you do not know or define your niche or switch it over, some of your content will not resonate with your audience and you will get unfollowed.
If you do not know your niche, ask yourself a few questions:
What do you enjoy doing?
What can you do well?
What can you do that people need?
What can you do that people are willing to pay for?

By forcing yourself to do what you are not an expert in and, what's even worse, you don't enjoy, you are preparing yourself for failure.
In 2020, Instagram has disclosed their algorithms tries to frame your account into a niche. A niche is anything from health & fitness, pets and high-tech to memes. Instagram groups niches into a niche tree. For example, photography niche has a sub-niche of landscape photography, street photography, lens, photo editing, etc.
Here is a list of the largest Instagram niches as of 2021:
Health and Fitness, Beauty, Fashion, Lifestyle, Business, Pets & Animals, Food & Cooking, Traveling, Parenting, Crafts & DIY, Memes, Motivational Quotes.
Here are some more for you to pick from:
Pregnancy, Yoga, Online dating, Relationship advice, Online Blogging, Writing & Copywriting, Weight loss or gain, Haircare loss or treatment, Social Media Marketing, Sex and sexuality, Language learning, Music, Astrology, Religion, Photography, Style & Shopping, Art, Video Editing, Life coaching, Cryptocurrency, Finance, Time management & Productivity, Psychology, Interior design, Baking, Gaming and many many more…
When you publish a post, Instagram shows that post to your followers and people interested in your niche and related niches. Breaking a pattern of posting a niche-relevant content is risky for your account. Make sure to stay in your niche to both increase the new followers influx and reduce churn.
Occasionally, break out of niche to relevant niches only. For example if you're posting about photography, making a post about photo equipment once in a while broadens your spectrum.
However, do not jump between irrelevant niches such as Beauty and Pets. Instead make a second Instagram account for the other niche and @mention it on your main account so that people who are interested have a chance to hear and follow.
Be consistent with posting
Pick a posting strategy and stick with it. If you suddenly start posting too often or infrequent, your audience will have to adjust. This creates an unnecessary tension.
Be predictable about your posting. Scheduling your posts in advance is the easiest way to ensure that and also saves you time as you can prepare multiple posts in one swipe. Inssist Scheduling can help with that.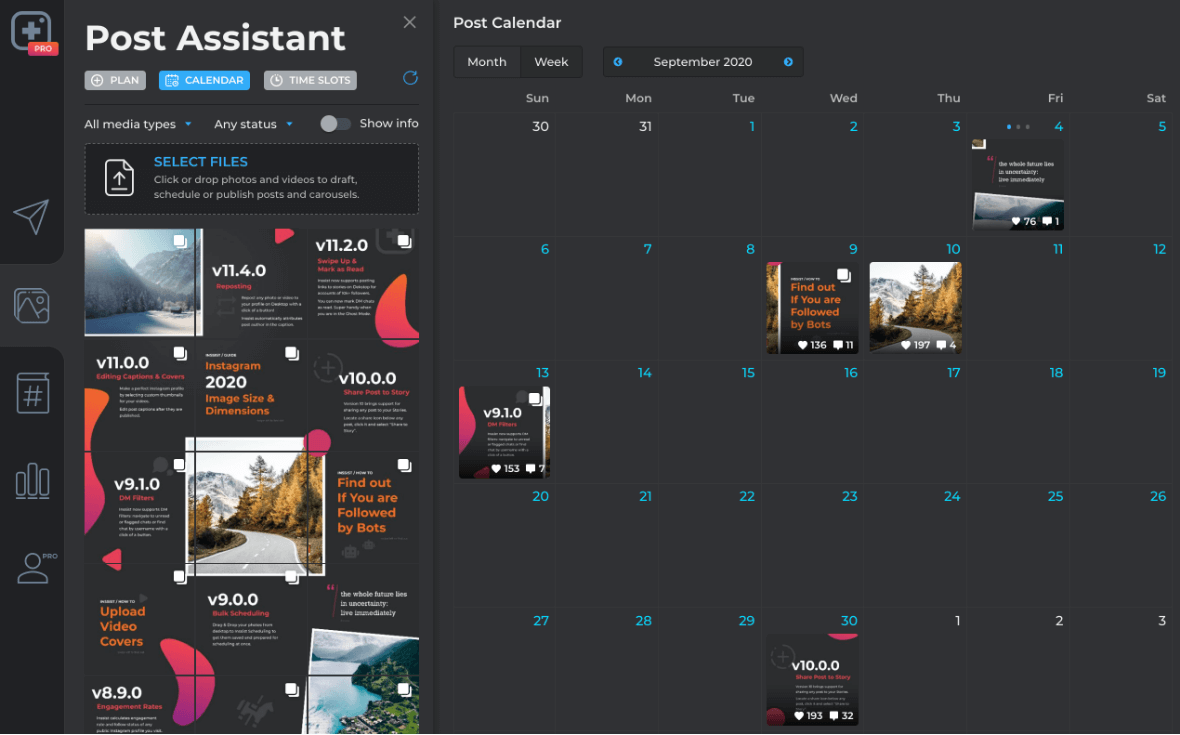 How often do you want to post depends on your ability to create a relevant content (see above). However, keep in mind that posting more than twice a day is counter-productive as people tend to unfollow accounts that post too frequent, getting their Instagram home feed overcrowded.
Remind people why they follow you
Pick a recognisable avatar and make sure you tell the world what your profile is about by framing your niche in your BIO. It should take a few seconds to understand what your profile is about from looking at your BIO.
Then one of the tricks you can use to remind your followers of your account's value is to occasionally find the best of the old of your posts (the most saved, commented and liked) and reposting them again.
If you store a copy of your old viral photo, just repost it with an updated caption, or use Inssist reposting feature to repost it to your profile: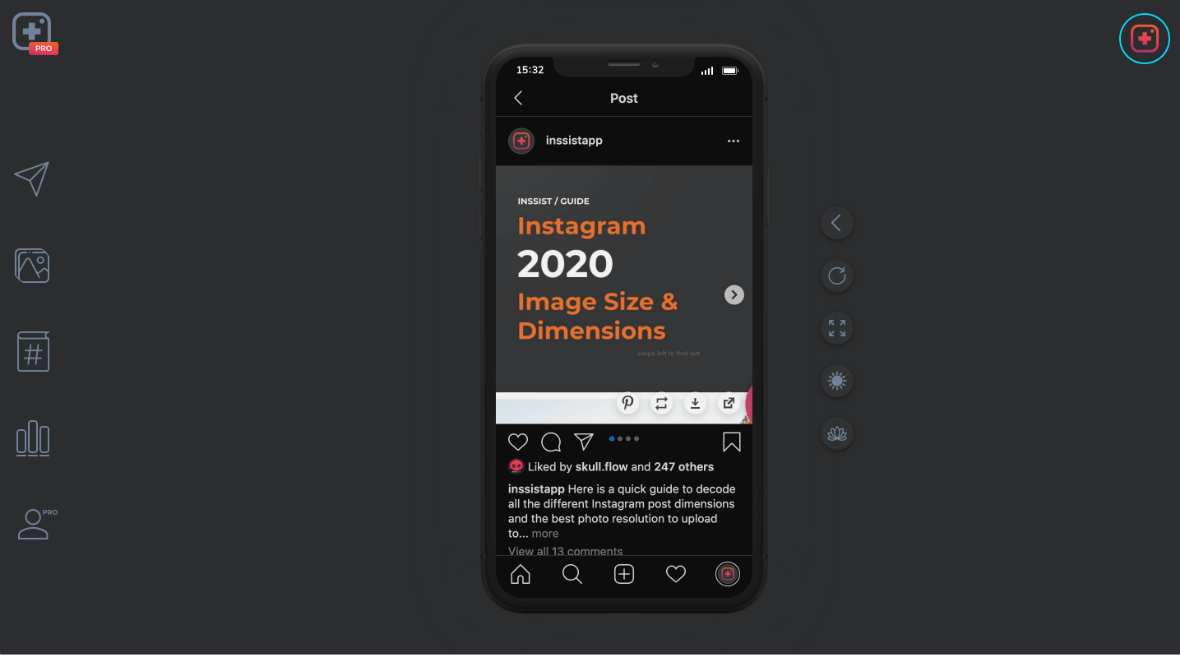 You could also use a Share to Story feature to repost your old posts to your story: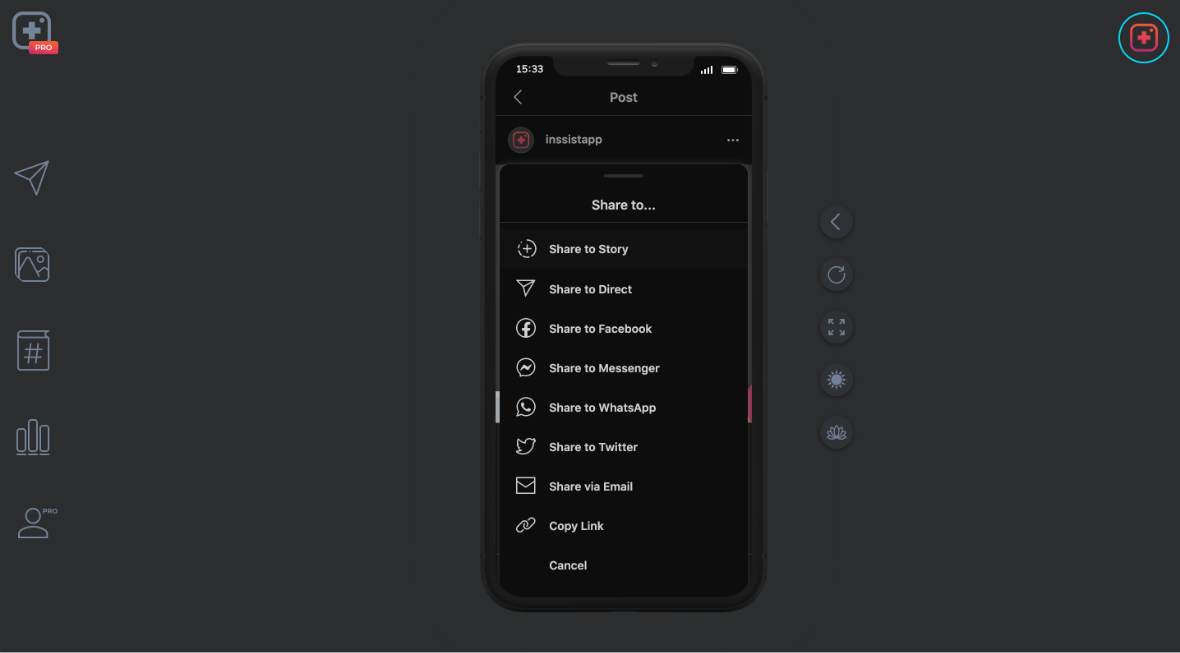 Speaking of stories, Highlights is an excellent way to remind your audiencewhy they should follow you. Save the best of your posts to your Highlights, then if somebody decides to unfollow you, they are likely to navigate to your profile, review the best stories in highlights and change their mind.
Tracking followers & unfollowers
Some people follow and then unfollow you to get your attention. Luckily you can use Inssist to try to locate such accounts and unfollow them in return. Run Inssist analytics from time to time or leave it on to gather data on your account growth and locate new followers and unfollowers.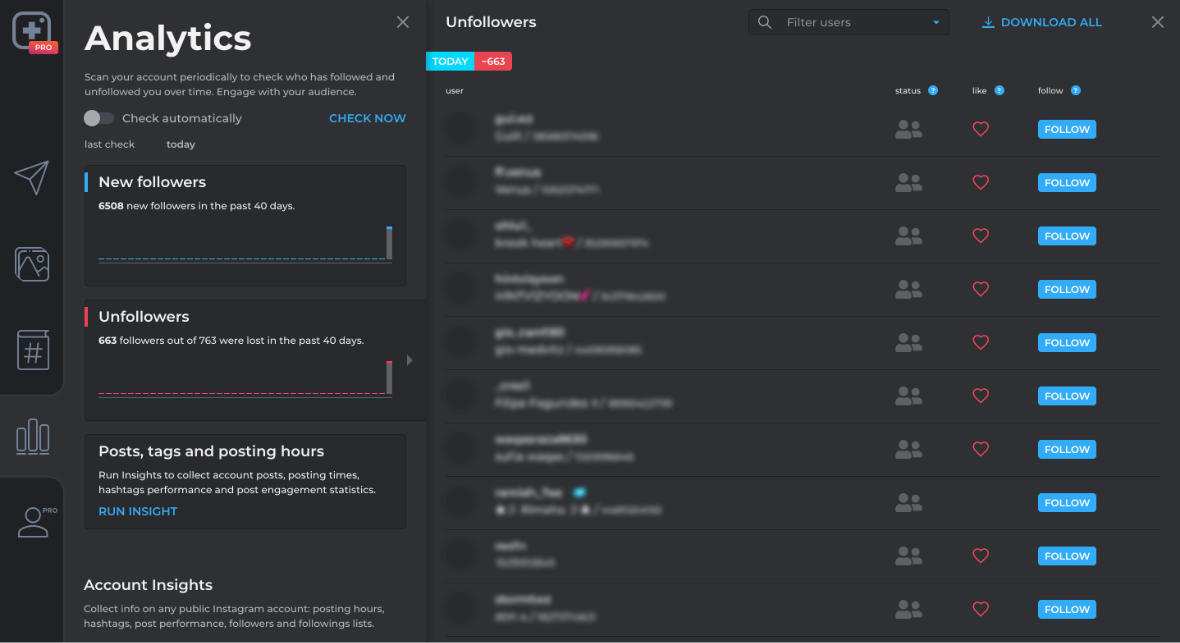 You can unfollow your unfollowers in a single click from Analytics module screen. You can greet your new followers by sending them a Direct Message. Or you can try to regain your unfollower's trust by posting a high-quality content and liking their posts.
Do not overuse the liking function though, as it is a subject to a request rate-limit and may get your account session action-blocked, in which case you'd need to relogin to Instagram in your browser. Read more about Instagram security in our Instagram Bans, Blocks & Limits guide.
Conclusion
Do not despair if you lose followers. Followers that do not engage with you are actually harmful to your account growth as your profile engagement is the key metric for Instagram to decide if your account is noteworthy.
In every situation, stay authentic and true to yourself!