With Inssist Chrome plugin it has never been easier to post Videos to Instagram from Desktop. Instagram has some video posting quirks you should be aware of though. This article explains how to post videos, stories and IGTVs to Instagram, typical problems you might encounter, and how to solve them.
Videos can be posted to Instagram in 5 different ways: as Video Posts, Video Stories, IGTVs, LIVEs or Reels. Inssist supports 4 of those types: Video Posts, Stories, IGTVs and Reels.
LIVEs support was not available on the Instagram Web API at the time of writing this article but it may well come in the future and will be introduced to Inssist as soon as Instagram starts supporting them on the Web API.
Instagram platform is known to be picky when it comes to accepting videos from PC and may fail if video size, format or aspect ratio is unsupported. To avoid problems with video uploads and quality loss due to compression (blurriness), please make sure your video file size and format is one of the recommended:
Video Posts
Length is below 1 minute, format should either be MP4-h264 or WEBM, 4Gb max, 30 frames per second.

Landscape videos

should be 1080:608px (ratio is 19.1:1).

Portrait videos

should be 1080:1350px (ratio is 4:5).

Square videos

should be 1080:1080px (ratio is 1:1).
Video Stories
Length is between 3 and 15 seconds, format should either be MP4-h264 or WEBM.

Landscape stories

should be 1080:608px (ratio is 1.91:1).

Portrait stories

should be either 1080:1920px (ratio is 9:16) or 1080:1350px (ratio is 4:5). Portrait format is recommended for stories as they look nice on mobile devices that way. You can also rotate and cut a long landscape video into 15 seconds chunks to make a series of portrait stories out of it.
IGTVs
Length between 1 and 10 minutes, format should either be MP4-h264 or WEBM.
For

landscape IGTVs

the optimal size is 1920:1080px (aspect ratio is 16:9), for portrait IGTVs the optimal size is 1080:1920px (aspect ratio is 9:16).
For

IGTV Cover Photos

the recommended size is 420:654px (aspect ratio is 1:1.55).
Aspect ratio for landscape IGTVs must be between 16:9 and 5:4. Aspect ratio for portrait IGTVs must be between 4:5 and 9:16.
Video compression
Instagram may compress a video server-side after it is uploaded. Compression may result in videos being blurry or pixelated if the size of the video file does not adhere to one of the optimal requirements listed above.
Photos and videos uploaded from Android devices have a worse quality and higher compression rate compared to uploading from iPhone or Desktop. Inssist forces an iOS compression from Instagram so that your photos and videos look crisp.
To avoid blurry videos make sure to prepare your video before uploading.
Instagram may serve a down-sized version of your video to the Web Client for a few minutes after it is uploaded so it may appear a bit blurry. To verify if your video is indeed blurry or not, open your Profile on Instagram Mobile App or wait for a few minutes and refresh the post page on Inssist.
How to prepare your video for upload
To avoid video compression (blurriness) and "Video failed to upload" issues, make sure your video aspect ratio, size and format is one of those listed above. You can use a number of tools to resize, cut or format your videos. Probably the fastest one to use is OnlineConvert.com
Instagram is known to reject video uploads if the video file size is too large. Not only can OnlineConvert resize, cut or reformat your video to MP4-h264 but it also reduces video size in megabytes resulting in a faster upload.
Other free online tools that can help you resize and reformat your videos are:
Ezgif can help you resize your video or cut it in chunks of 15 seconds. Ezgif also has tools that work with photos.
CloudCovert will convert your video format to MP4.
Zamzar also converts videos to MP4 / WEBM.
Once your video size and format has been optimized for Instagram, upload it from the PC / Mac with Inssist with a few clicks.
How to upload your video to Instagram from PC
First you need to get a free Inssist Chrome Extension. Once installed it can upload your video to Instagram in two ways:
Free Direct Posting, works through Instagram Web API,
Pro Scheduled Posting, works through Facebook Scheduling API.
Direct video posting to Instagram
With direct video posting you can upload video posts, video stories and IGTVs to Instagram from PC. Locate a [+] icon at the bottom of the Instagram Frame and select the type of file you'd like to upload to Instagram: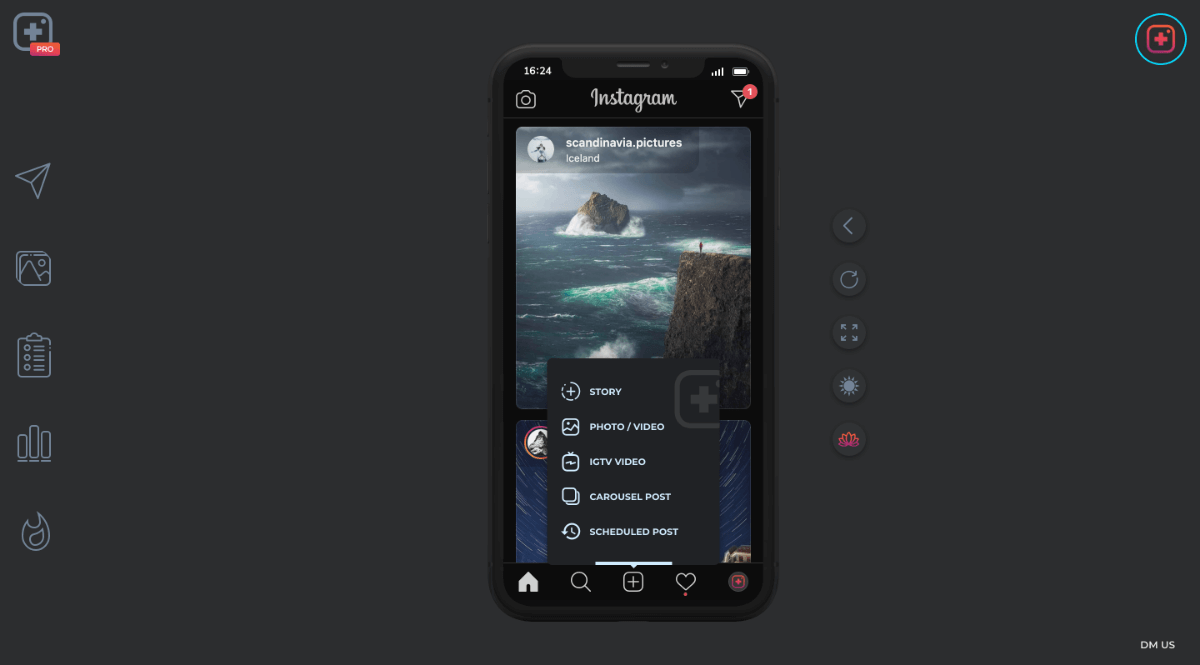 For a video post you can set caption, location, hashtags, mentions and other parameters.
Video stories do not support @mentions, music, GIFs and text yet due to limitations in the Instagram Web API. These features may be added to the product in the future once they are supported by Instagram Web API.
Direct posting is available on Inssist Free version. If you're on PRO version you can also upload a video cover (thumbnail) for your video post to make sure your Instagram grid looks perfect and consistent.
Scheduled posting to Instagram
Scheduled posting to Instagram works through Facebook API and can post videos AND video carousels (multi-media posts). Navigate to Post Assistant on the left, connect your Instagram account to a Facebook Page to setup scheduling then click on "SELECT FILES" to upload your video and create a new post: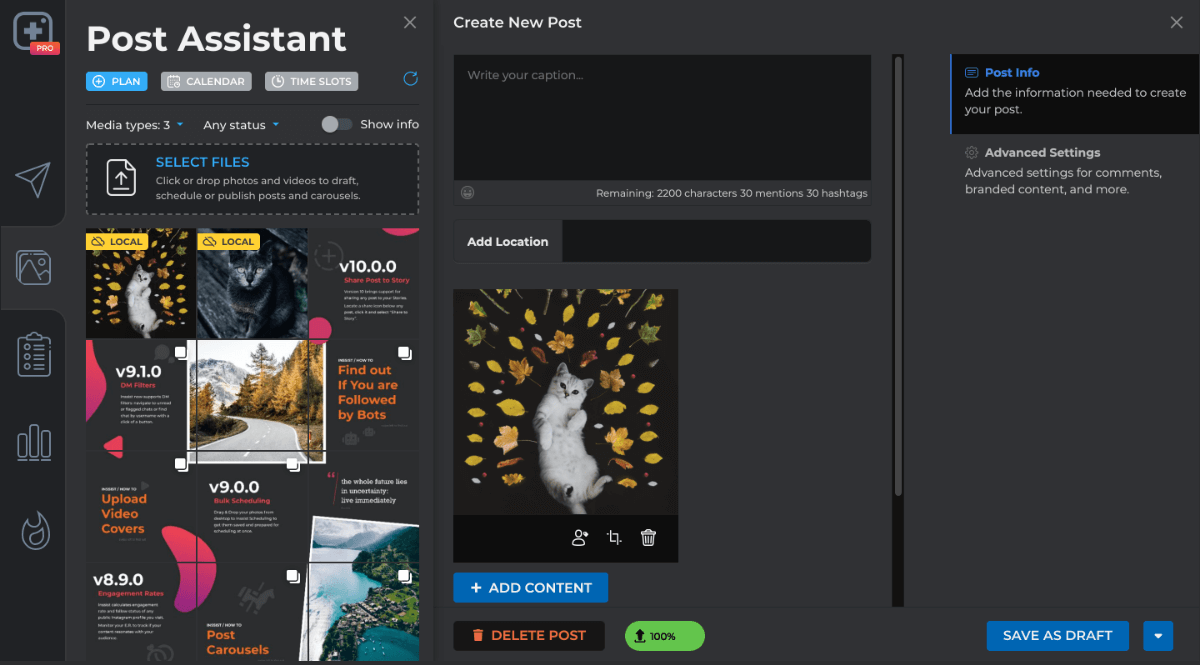 You can set caption, location, hashtags, mentions, cover (thumbnail), turn off comments or tag accounts on your video. Post Assistant can also clone your post to the connected Facebook Page for you.
Once the video is uploaded and parameters are set you can then either draft, schedule or post the video immediately to Instagram.
Canva.com
Feeling short on content for your stories? Check out Canva. It has a ton of free templates for you to pick from and also supports adding and formatting text on photos and videos. Inssist is not affiliated with Canva in any way.
Video uploading problems
There are a few things that could happen when you upload a video to Instagram from PC / Mac:
Video did not upload

and Instagram says: "Post did not upload." or "Story did not upload.". Make sure that your video size, aspect ratio and format are one of the recommended. OnlineConvert.com can help you resize, reformat and compress the video.

Video is blurry

. This problem happens if your video is not of the recommended size and aspect ratio (see above). Make sure to resize your video properly to the one of recommended sizes. If you upload from Desktop and the video comes out blurry, wait for some time before double-checking as Instagram serves a down-sized version of a video to Desktop for a few minutes before auto-correcting.
Feel free to share a link to this article on your blog to help others with posting to Instagram on PC! 🤗